Welcome to the Office of Information Technology (OIT)
Our Mission
The Office of Information Technology (OIT) is dedicated to providing high quality information technology services and support to further the mission of the Johns Hopkins School of Medicine.

"The true sign of intelligence is not knowledge but imagination."
About Us
Everyone at OIT is committed to our mission. We are here to support and enhance research, teaching, and patient care at Johns Hopkins University School of Medicine through effective use of excellent information technology resources, products, and services.
PEOPLE
Lorraine Spencer

Director


lspencer@jhmi.edu


410.955.7932
Joan Gentuba

Sr. Software Engineer


jgentub1@jhmi.edu


443.735.6138
Guizhen Yang

Software Engineer


gyang20@jhmi.edu


410.735.6584
Kuangyi Miao

Software Engineer


kmiao2@jhmi.edu


410.735.6617
Lev Schneider

Sr. Programmer Analyst


lschne11@jhmi.edu


410.735.4004
Frederick Herrmann

Sr. Programmer Analyst


fherrma1@jhmi.edu


410.735.4243
"We make a living by what we get, but we make a life by what we give."
Services
We provide technical consulting, database development and integration, systems integration and configuration services, website maintenance and modification, and software development.
Software Development Services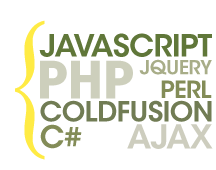 OIT strives to provide our clients quality application development services and web development services that help them to remain in step with
the latest technological
advances. For this, we use modern software development platforms, application development tools as well as employ latest project management techniques and software engineering practices.
We develop custom software applications for our clients and assist them throughout the entire software development life cycle, including project management, systems analysis and design, development, implementation, training and application maintenance.
Our strong technical team can help ensure that the software development services we provide fit our clients' needs and meet their expectations.
Web Development Services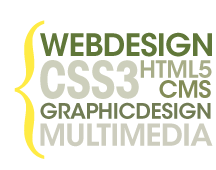 A website is a reflection of what you do. When it is developed right, it will take your organization to new levels of growth and success. Since many people have become online-savvy, ever more sophisticated websites have pushed the boundaries. OIT provides end-to-end web development services to fulfill all website requirements for our clients. At OIT, we make sure we deliver a product that is the optimal blend of visibility and usability.
Our approach is to empower our clients with effective web development services and solutions that enable them to confidently meet their challenges. We'll seamlessly blend visual appeal and ease of use into the websites we develop.
"To listen well is as powerful a means of communication and influence as to talk well."
Communication
We are here to deliver on your project requirements and add value to your organization. We believe that an effective two-way communication plays an important part in meeting these aims. Our continuous improvement efforts include:
Gathering Feedback and Tracking What's Important
In order to set priorities, benchmark progress, and improve performance, our team need to hear from our clients. Great ideas and insight can come from the people who do the jobs we support. Gathering feedback from across your business is important for the OIT team to respond quickly and effectively.
Educating Our Users and Raising the Profile of Important IT Policies
The OIT team puts in place safeguards and educates clients to use, protect, and store data appropriately. Regular communication from the OIT team can remind busy users to attend to the basics like changing their passwords regularly or backing up their files.
Using Visual Communications to Help Messages 'Cut Through'
Most staff in today's organizations suffer from 'information overload'. More and more, this means that they only notice communications they think are directly or clearly relevant to them.
Engaging Staff in Technology Change
Technology is changing fast and organizations introduce new systems regularly. To support this change, the OIT team communicates early and often. We identify who is accountable for doing this, gather feedback from users, explain the benefits of the new systems and how they work and encourage staff to use them effectively.
We are interested in your comments and feedback.
Contact
Give us a call or send us a message!
Address
Mt. Washington Campus,
McAuley Bldg, St. 305
5801 Smith Ave
Baltimore, MD 21209

Feedback/Request Form
"Give me but a firm spot on which to stand and I shall move the earth."
Portfolio
Here is some of our recent work.
Admissions Application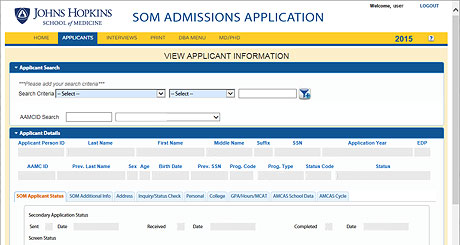 OIT supports local applications for Office of MD Admissions, Office of Graduate Admissions, and Office of Md/PhD Admissions. Working with input from the MD admissions team, OIT developed and launched a new web-based, MD Admissions database. OIT also provides ongoing support, configuration and modifications for this site.
Graduate Admissions - Weekly Status Updates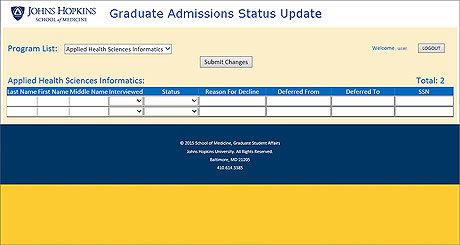 Each week during application season, the Graduate Admissions office runs a database query 18 times, once for each program, in order to create 18 spreadsheets and email the spreadsheets to the corresponding programs for input. The updated spreadsheets are then returned to the Graduate Admissions Office.

This project is aimed to design a web form that provides functionality for the program user to select their program from a drop down of the 18 programs. The form is then populated with only students that have applied to that program, in alphabetical order. The web form looks and functions almost exactly like the previous Excel status reports, and contains the same fields. The web form resides on a secure JHU server.
ISIS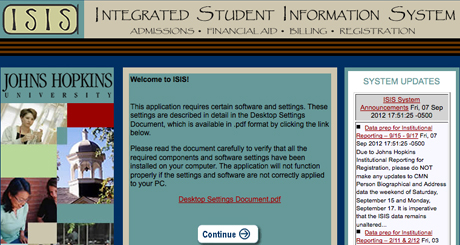 Integrated Student Information System (ISIS) is Johns Hopkins' first university-wide, web-based student information system. ISIS is the system of records for data on all university applicants and enrolled students. School of Medicine admissions, records and registration, and doctoral board data were migrated into ISIS and will be maintained there going forward. Having achieved a higher level of integration of student data in ISIS paves the way for new and different analytical capabilities, including the construction of a student data warehouse. We also automated generation of temporary social security numbers for registration, replacing a manual, time-consuming process.
Learn more about ISIS.
SORD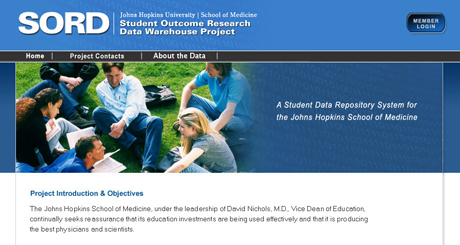 Student Outcome Research Data Warehouse (SORD) is a tool that tracks and evaluates the developmental process of an individual from his/her early stages as a student to his/her later professional achievements. SORD provides a collective assessment that is used to evaluate the outcomes on our education investments.
Learn more about SORD.
ECARS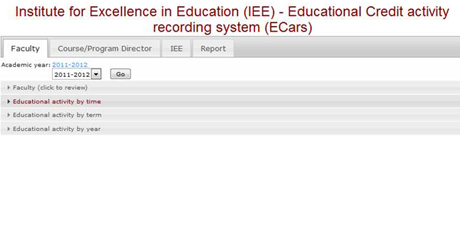 The Educational Credit Activity Recording System (ECars), is a web-based system designed to be a quick and easy way for a faculty member to enter his or her educational activities.
Learn more about ECARS.
SDW/D3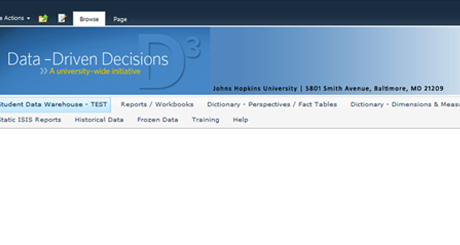 OIT continues efforts to produce actionable information in usable formats to many customers. A particular focus over the past year has been on improving the quality of student and faculty data in order to answer important questions about these populations. Data aggregation and analysis across applications, datasets, and organizations occurs through SAP (faculty data), ISIS (student data), and other systems. Working with divisions to validate and close gaps in faculty data, SAP has been established as the system of record for faculty data. ISIS is now the system of record for all university applicant and enrolled student data.